Topic: [Solved] Problem with DSP settings for Multiface 1 in Windows 11
Hello everyone,
Having purchased the Multiface 1, I need some help setting it up properly. My system specs are:
Windows 11 Pro (version 10.0.22621)
HDSPe Aio Pro, using driver 4.40
Multiface 1, connected via Hammerfall DSP PCI interface card rev. 1.7 and a Delock PCI-E riser card. Firmware flashed to Rev. 17/55/108/155/107/235.
From the AIO Pro I have an optical cable from the SPDIF/ADAT out to the SPDIF/ADAT in of the Multiface.
Currently I have two problems with this setup.
1. I cannot configure the Multiface in the Hammerfall DSP settings. The current sample rate is always shown as 44100 Hz, even though the AIO Pro runs at 48 kHz and all audio devices in Windows 11 are set to 48 kHz. I could not find out where the 44.1 kHz input for the Multiface was coming from.
2. The two cards are not synchronised. The AIO Pro is set to master, but the Multiface shows nothing under "Sync Check".
These are the settings I have in the DSP settings: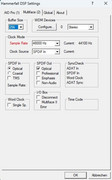 .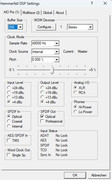 .
I'd really appreciate any help.