Topic: Firmware Updates 12Mic, AVB Tool, M-1610/M-32 Pro 2.4.0/1.6.0
!!! We found an issue that could cause our devices to lose sync every ~8.5 minutes when receiving a signal from an RME MADI Router. This is fixed in the following update !!!
We are excited to announce the next release candidate firmware, with new features and numerous improvements:
All devices can now be configured with a static IP address


A frequent request from users who do not want the device IP address for the web interface to be retrieved automatically via DHCP. The IP address can now be set on the device in the State>Remote section.
M-Series (M-32 Pro, M-1610 Pro) now reveal temperature and fan speed controls on the device screen
Several users have requested a possibility to inspect fan speed and temperatures on the device itself, rather than using the remote control. This is now added.


All devices now feature an additional, dedicated AVB Clock Reference (CRF) stream for media clocking
This means better out of the box compatibility with MILAN AVB devices. We removed the CRF stream format from the other streams since they are not necessary anymore. Now users can use all eight streams for audio while being synchronized to (or sharing) a dedicated media clock stream. The CRF stream input has also been improved to pass MILAN certification requirements.

The stream configuration of the Web UI has been improved
We implemented that the 'stream state' field updates while the dialog is open, and introduced other units to adjust the default presentation time offset. Where the user was previously left with setting the PTO (also referred to as MTT, maximum transit time) in nanoseconds, we now offer microseconds, milliseconds and even samples (based on the current sampling frequency):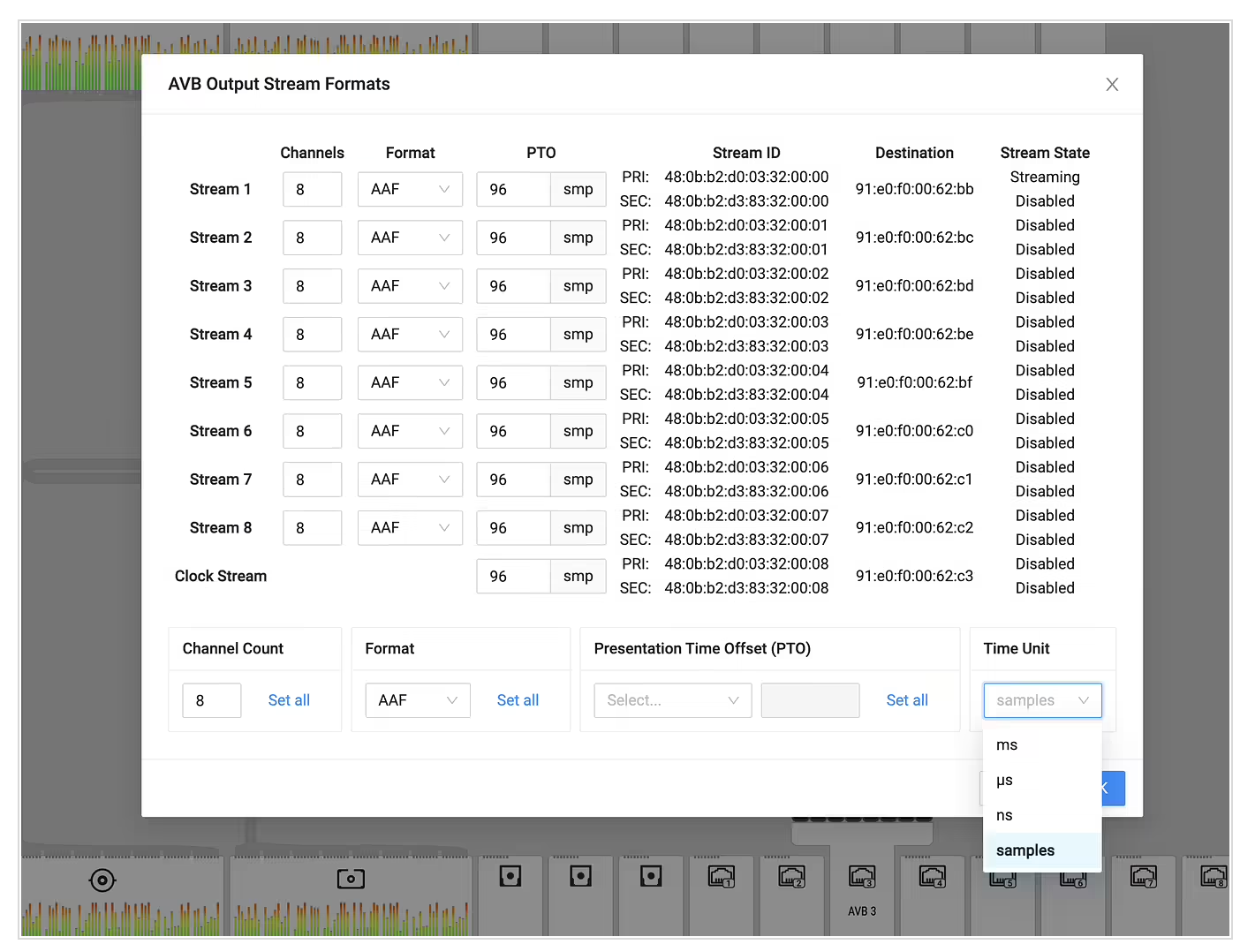 In addition, there are countless improvements under the hood, addressing the JSON API, the ATDECC counters and notifications and MILAN compatibility.
Download links:
12Mic
AVB Tool
M-1610 Pro
M-32 AD Pro
M-32 DA Pro