Topic: RME Connector - control 12Mic, 12Mic-D and AVB Tool via network&MIDI
Today, we're launching a public beta of "RME Connector". This free app is technically a new major release of the "RME MIDI Remote AVB", but adds control via network and control for the 12Mic-D - two reasons to change the name.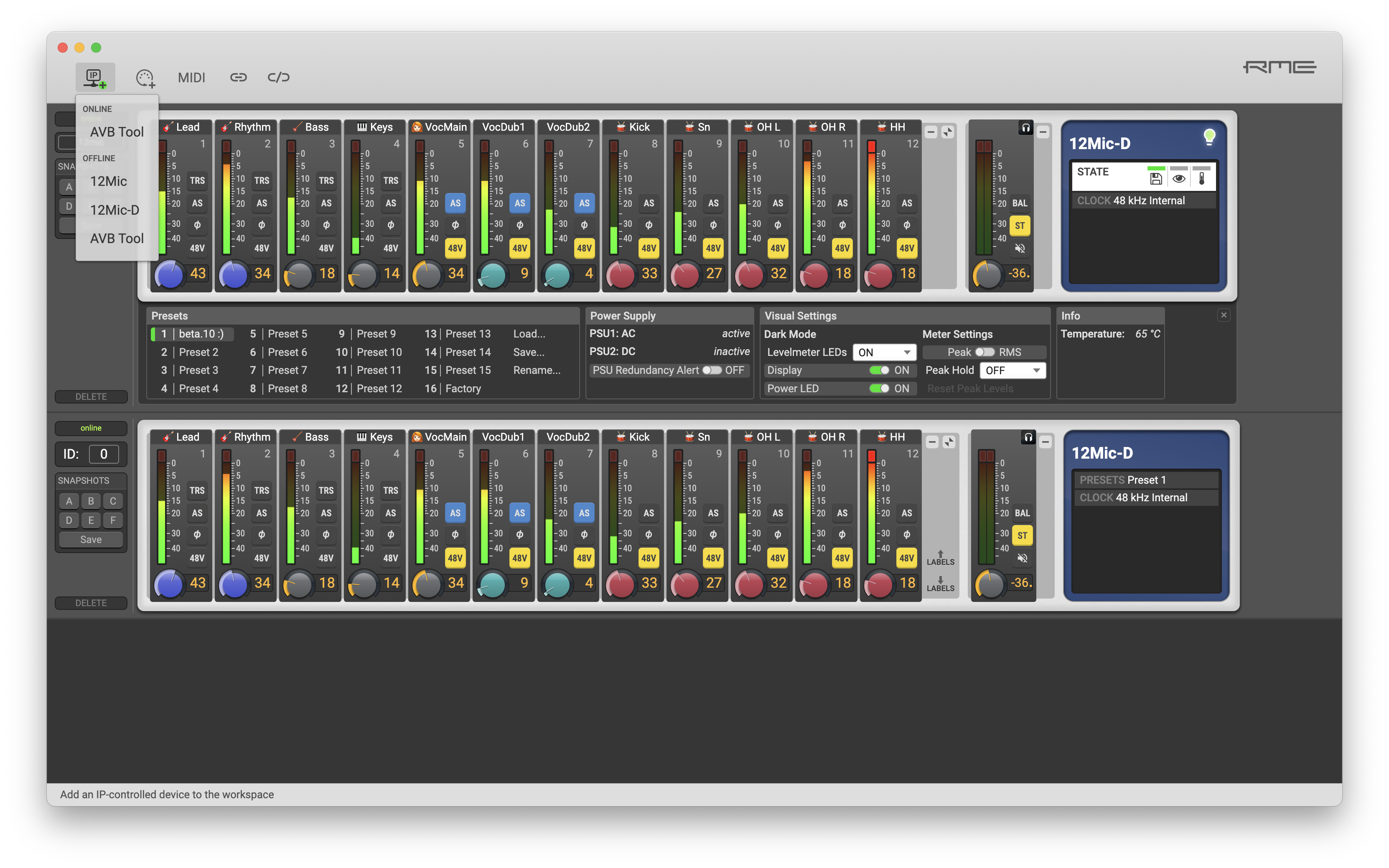 For users that previously used the "RME MIDI Remote AVB", your settings will be imported at first startup. You get a couple of new features:
Devices can now be controlled via network connection
This is based on the same protocols that the web frontend uses, and therefore it does not require a wired (or AVB) network. Just plug in a WiFi router to the device, connect to the WiFi and RME Connector will discover all 12Mics, 12Mic-Ds and AVB Tools that are present. Since control over network comes with much higher bandwidth than MIDI, you can control more features of the device and more will be added in future.
Note: devices in RME Connector are either MIDI devices or network controlled devices - not both. So if you already have a number of MIDI devices set up, those will be discovered and added as network controlled devices in addition to the MIDI devices. Of course a device can be controlled via MIDI and network at the same time - you will simply see two devices, one for MIDI and one for network.
Improved gain group features
Creating a gain group on a physical 12Mic device is a great experience - just hold down the channel button next to the first XLR input connector and press the one next to the last input connector - done. The remote experience now comes with the same convenience - just click and drag over any number of gain pots in group mode (shortcut key: 'g')
Also, we added the often requested global "ungroup" mode which lets you adjust individual channels without deleting their gain group.
Native Apple Silicon support
Users of M1 or M2 Macs can now run the app natively, without emulation. Faster startup and even better performance!
Update check
Most apps nowadays download updates automatically in the background. For DAWs, we deemed this to be a bit problematic because in some cases, you might be on networks that you don't want to use for downloading new app versions. RME Connector allows you to opt-in for (beta or release) update checks, and if an update is found, the app asks if it should be downloaded (and again if it should be installed immediately or with the next restart).
For all the 12Mic-D users out there - thank you for your patience. You wanted MIDI control for the use case that you are using the 12Mic-D with MADI, which appears to be more popular than we had originally anticipated.
Added support for 12Mic-D
Please install the following beta firmware, restart the device, configure the MIDI Input, Output and device ID on the device (STATE > Remote > MIDI) and you will get both: control several 12Mic-Ds via MIDI and/or network from the RME Connector application.
Let us know how it works for you, we are looking forward to your feedback!
RME Connector Beta Downloads
Windows 10/11
macOS (Apple Silicon)
macOS (Apple Intel)
12Mic-D Beta firmware with support for MIDI over MADI
Firmware 1.2.0-b5
--changelog:
Beta 12: Windows installer asks for single or multiuser installation
Beta 14: Windows: improved discovery of devices on local network
Beta 15:
- fixes the output level meters and adds Peak(hold, if set) bars to the web level meters (IP devices) (thx Cigame - we knew wink)
- frame rate has been adjusted for smoother level meters
- a settings dialog has been added with a clear explanation what "invert scroll direction" does (kudos to Ramses for bringing that up)
Beta 16:
- persists MIDI Output port
- fixes bug that MIDI would not start until settings dialog is opened
- (windows) closes the settings dialog along with the main window on exit